VIVA TWO christened for luxury cruising on Europe's rivers
March 29, 2023
0 Comments
---
---
Blue and silver confetti drifted on the Rhine breeze. A bottle of Champagne cracked on the bow. The ship's horn boomed across Dusseldorf. "It's a beautiful day" played on the sound system and VIVA TWO was triumphantly christened.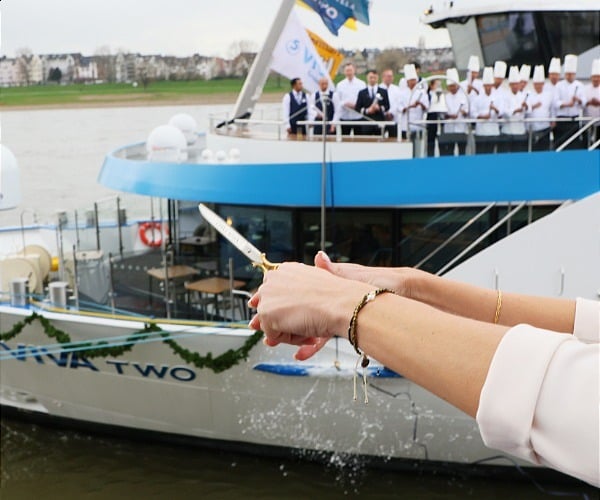 VIVA Cruises' staff hugged and joyously high-fived in celebration. Two years ago, this state-of-the-art ship had merely been a drawing board concept. Now she was gleaming reality, smelling brand new.
The ship's godmother, Shiri Gordon, CEO of Tel Aviv based tour operator The Gordon Travel Group, launched the champagne onto the 135 metre long, 190 passenger river cruiser. She gave wise words of advice to VIVA Cruises staff, "Do what you love and love what you do."
Respecting the environment, VIVA TWO's design, solar panels and automatic pilots have all reduced energy consumption. As Captain Golubovic says, "The cleanest energy is the energy you don't use."
The ship
The captain told invited VIPs that VIVA TWO is one of the most modern of vessels on Europe's rivers.
Guests on the ship's short cruise from Dusseldorf to Nijmegen were impressed with this smooth sailing low-draught ship. Experienced cruisers commented on the absence of vibration usually found on river cruisers.
For Captain Golubovic, a third-generation sailor, it was the culmination of his career aspirations to take the helm of a brand-new ship. A moment made even prouder by having his brother Dragan serving alongside him as co-captain.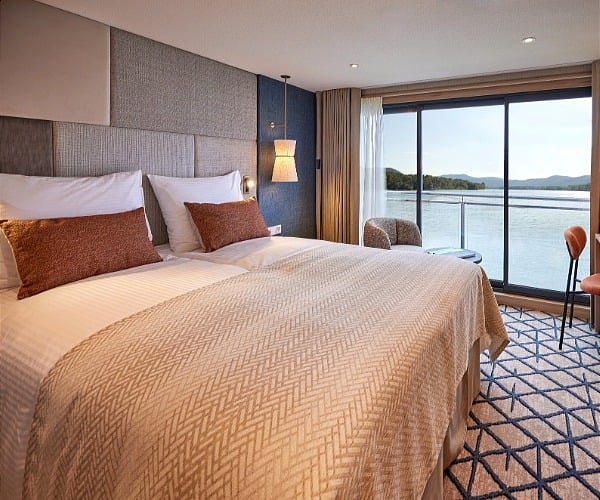 Accommodation is spread across three decks. Doubles on the top two Diamond and Ruby decks have floor-to-ceiling French balconies whilst those on the lower deck, Emerald, have non-opening windows.
Soft greys and beiges, pinewood fittings and mini spotlights give the cabins…
Read Full Article Source