Finnair's spacious new seat means business
---
---
Business class travel takes a leap forward with Finnair's new Business Class cabin and the spacious new Collins Aerospace AirLounge™ seat. Finnair is the launch customer for this new and innovative seating concept that is to be rolled out across Finnair's entire long-haul fleet of A330s and A350s.
The AirLounge is not a traditional aircraft seat but takes inspiration from lounge furniture. The seat is designed to maximise your comfort, space, and freedom to move during a long-haul flight. The clean lines and the dark, comforting colour scheme follow Finnair's Nordic design style that is visible also in Finnair's lounges in the non-Schengen area at Helsinki Airport.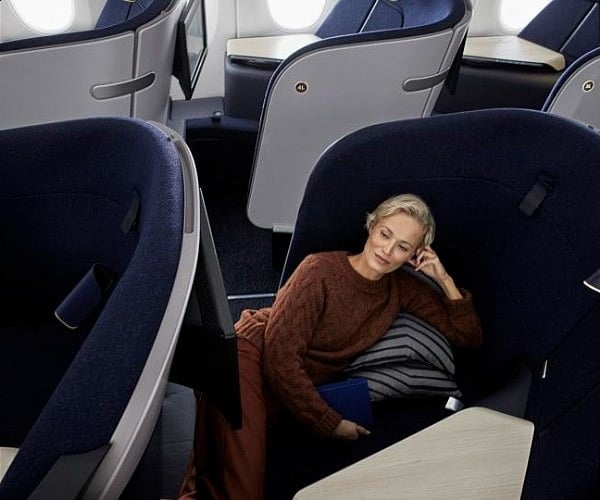 David Kondo from Finnair's Customer Experience team, who led the design work for the new Finnair long-haul experience, said: "We wanted to rethink business class and create more of a residential environment, emulating the comfort you would expect at home. By doing away with complicated seat mechanisms and using 3D curved shells, we're able to provide a larger flexible living space. This allows you to move more freely and take up different positions that traditional aircraft seats do not allow."
The seat concept was originally conceived by PriestmanGoode of London. The seat was further developed by Collins Aerospace, with customisation and final design execution by Finnair and its appointed design partner, Tangerine.
"The collaborative partnership with Finnair enabled the launch of this innovative seat and helped bring a truly unique cabin concept to life," said Mark Vaughan, vice president and general manager of Interiors Seating for Collins Aerospace. "I truly believe that together we have set a new bar for passenger comfort and the travel experience."
An exclusive space that you can make your own
The seat's innovative fixed contoured shell with no recline enables a wide…
Read Full Article Source
Tags:
London